PRESENTS
A Tribute to
All Canada's Veterans
This page is dedicated to all Canadian Veterans from all Wars
It is also specially dedicated to the lasting memory of my departed veteran brothers Rowland, Francis, Donald, Alan, Patrick and Earl (Mac).
... and to say thanks to my other sibling Alma who also served her country.
They all served their country well and their contribution will never be forgotten.
Spend a few minutes here and please remember all our veterans...always!
(Alex - Veteran and site Webmaster)
Highway of Heroes by Bob McQuaid
Highway Of Heroes Video
Highway of Heroes is a poignant tribute, written and performed, by Bob McQuaid, to our fallen Canadian soldiers, with photos and images from DND Canada & the Highway of Heroes Facebook Group. Thank you everyone for allowing the use of your photos and images in this tribute.
Canada's War Casualties
There have been many battles, wars and conflicts throughout history. Canadians have fought in most of them. They include:

French-Indian Wars 17th Century
American Revolution 1775-1783
War of 1812 1812-1814
American Civil War 1861-1865
Fenian Raids 1866 and 1870
Red River Rebellion 1869-1870
Nile Expedition 1884
North West Rebellion 1885
South African War (Boer War) 1899-1902

World War I 1914-1918
Siberian Expeditionary Force 1918-1919
Spanish Civil War 1936-1939
World War II 1939-1945
Korean War 1950-1953
Vietnam Conflict 1959–1975
Persian Gulf War 1990-1991
War in Afghanistan 2001-present
Peacekeeping Missions 1950-present

The following are some of the major wars showing Canadian participation and calualties
In the American Civil War 1861-1865 there were over 50,000 British North Americans (Canadians) that fought for the Union and over 10,000 for the Confederacy. It is estimated that several thoousand died during the battles and from disease. Canada, at the time of the American Civil War, was only a Colony of Great Britain and became a country in 1867 partially because of the effects of the Civil War.
In the Boer War 1899-1902, 7,400 Canadians were sent to South Africa. 224 were killed in action or by accidents and disease. Another 252 were wounded.
In the First World War 1914-1918, over 626,000 Canadians enlisted. The casualty toll was staggering: 66,655 dead and 174,000 wounded. That represents a 10% death rate. 2,818 were POW (prisoners of war) and 175 Merchant Seamen died in enemy action.
In the Spanish Civil War 1936 to 1939 the Canadian government declared its neutrality on the outbreak of the Spanish Civil War. Most people in Canada favoured neutrality but some men joined the International Brigades. About a 1,000 Canadian citizens joined the defence of the Popular Front government. By the end of the Spanish Civil War almost half of the Canadian volunteers had been killed.
In the Second World War 1939-1945, 1,031,902 males and 49,963 females served Canada. The casualties were 42,041 killed and 54,414 wounded and there were 9,364 POWs (6,791 Army, 2,475 Airforce & 98 Navy. In the Dieppe landing 1,949 Canadians were taken prisoner). 1,146 Merchant Seamen were lost in enemy action.
In the Korean War 1950-1953, there were 26,791 Canadian participants, with 516 killed and 1,567 wounded. There were 33 POWs.
In the Viet Nam Conflict 1959-1975, it is estimated that 3,500-4,000 Canadians served in various U.S.A. Forces in South East Asia. It is also estimated that 100-145 died or were MIA (bodies never recovered). Canadian casualties are included in the USA totals.
In the Arabian Gulf War and Afghanistan 6,000 male and female Canadians served. Casualties were 7 killed and 14 wounded. Included were 4 Canadian soldiers killed and eight others wounded by so-called "friendly fire" in April 2002. They were the first active service casualties since the Korean War, 50 years ago.
More than 125,000 Canadian Peacekeepers have participated in United Nations (and NATO) peacekeeping duties throughout the world. That is more Peacekeepers than any other country. A large number of Canadian Peacekeepers have lost their lives and many were wounded. To see a list of these brave Peacekeepers, visit our special Memorial page by clicking here: PEACEKEEPERS
source: Department of National Defence and several internet sites
The Canadians on Juno Beach
D-DAY BY THE NUMBERS
June 6th, 1944
• 15,000 Canadians landed on D-Day
• 450 jumped by parachute or landed by glider
• 340 Canadians were killed, 574 were wounded and 47 were taken prisoner
• 7,000 vessels of all types, including 284 major combat vessels took part in Operation Neptune
• 10,000 sailors of The Royal Canadian Navy were involved in the landing
• 4,000 heavy and medium bombers plus some 3,700 fighter bombers attacked beach defences and inland targets
• During the first six days of the Normandy Campaign 1,017 Canadians died
• By the end of the Normandy Campaign about 5,020 Canadians died
• In the two-and-a-half months of the Normandy Campaign, Allied casualties (killed, wounded and captured) totalled 210,000
• Canadian casualties totalled more than 18,000, including the 5,020 Canadians dead. (German casualties were 450,000+)
They shall not grow old as we who are left grow old. Age shall not weary them, nor the years condemn. At the going down of the sun and in the morning, WE WILL REMEMBER THEM.
May they all rest in peace forever
Why The Poppy ?
A writer first made the connection between the poppy and battlefield deaths during the Napoleonic wars of the early 19th century, remarking that fields that were barren before battle exploded with the blood-red flowers after the fighting ended.
During the tremendous bombardments of the First World War the chalk soils became rich in lime from rubble, allowing 'popaver rhoeas' to thrive. When the war ended the lime was quickly absorbed, and the poppy began to disappear again.
The flowers sowed the seed for John McCrae's moving tribute to his fallen comrades. The irony must surely have struck the Canadian army doctor that on the same soil that battles were fought to the death, poppies thrived. Perhaps it brought a knowing smile to Dr. McCrae's lips that it was the satirical magazine Punch which first published his poem in 1915.
After John McCrae's poem In Flanders Fields was published the poppy became a popular symbol for soldiers who died in battle.
Three years later an American, Moina Michael, was working in a New York City YMCA canteen when she started wearing a poppy on her lapel in memory of the millions who died on the battlefield. From this simple, private gesture blossomed a tradition that is followed today by millions of people around the world, symbolizing respect and grateful remembrance for the millions who died in that war, and subsequent conflicts.
During a 1920 visit to the United States a French woman, Madame Guerin, learned of the custom. On her return to France she decided to use handmade poppies to raise money for the destitute children in war-torn areas of the country. In November, 1921, the first poppies were distributed in Canada.
And, it is "In Flanders Fields", Dr. McCrae's immortal lamentation to the war dead, that the poppy has found fame, and for children, the poem and the poppy remain the most visible connection to war.
Thanks to the millions of Canadians who wear poppies each November, the little red plant has never died. And neither have Canadian's memories for their countrymen who gave their lives in battle.
A poem - to Colonel McCrae's immortal poem,
In Flanders Fields
We have kept faith, ye Flanders dead;
sleep well beneath those poppies red
that mark your place.
The torch your dying hands did throw,
we've held it high before the foe
and answered bitter blow for blow
in Flanders Fields.
And where your heroes blood was spilled
the guns are now forever stilled
and silent grown;
there is no moaning of the slain;
theirs is no cry of tortured pain
and blood will never flow again
in Flanders Fields.
Forever holy in our sight
shall be those crosses gleaming white
that guard your sleep.
Rest you in peace, the task is done;
the fight you left us we have won
and peace on Earth has just begun
in Flanders now.
by Adolf Messerschmidt
Canadian Soldier- 137 Battalion, CEF - 1916
A SILENT TRIBUTE
Our surging battle lines must take their toll,
And cenotaphs are reared, and flowers are spread
Across the meadow and behind the knoll
O'er all those hallowed gardens of the dead.

Dead! Not to us, tho' all the world forget
That hideous travail of a nation's birth!
Your living memory is with us yet
Despite far scattered mounds of sacred earth,

And those of us -- so few -- who still remain
Cherish our scars -- sore guerdon of the years
And, in remembering, almost bless our pain
That tells of tribute paid in blood and tears.

And so, to you, we raise this silent glass --
And pledge ourselves to keep your memory bright,
And pray we too, when comes our time to pass
May look with fearless eyes into the night.
Anon.
JUST A COMMON SOLDIER
(A Soldier Died Today)
He was getting old and paunchy and his hair was falling fast,
And he sat around the Legion, telling stories of the past.
Of a war that he had fought in and the deeds that he had done,
In his exploits with his buddies; they were heroes, every one.

And tho' sometimes, to his neighbors, his tales became a joke,
All his Legion buddies listened, for they knew whereof he spoke.
But we'll hear his tales no longer for old Bill has passed away,
And the world's a little poorer, for a soldier died today.

He will not be mourned by many, just his children and his wife,
For he lived an ordinary and quite uneventful life.
Held a job and raised a family, quietly going his own way,
And the world won't note his passing, though a soldier died today.

When politicians leave this earth, their bodies lie in state,
While thousands note their passing and proclaim that they were great.
Papers tell their whole life stories, from the time that they were young,
But the passing of a soldier goes unnoticed and unsung.

Is the greatest contribution to the welfare of our land
A guy who breaks his promises and cons his fellow man?
Or the ordinary fellow who, in times of war and strife,
Goes off to serve his Country and offers up his life?

A politician's stipend and the style in which he lives
Are sometimes disproportionate to the service that he gives.
While the ordinary soldier, who offered up his all,
Is paid off with a medal and perhaps, a pension small.

It's so easy to forget them for it was so long ago,
That the old Bills of our Country went to battle, but we know
It was not the politicians, with their compromise and ploys,
Who won for us the freedom that our Country now enjoys.

Should you find yourself in danger, with your enemies at hand,
Would you want a politician with his ever-shifting stand?
Or would you prefer a soldier, who has sworn to defend
His home, his kin and Country and would fight until the end?

He was just a common soldier and his ranks are growing thin,
But his presence should remind us we may need his like again.
For when countries are in conflict, then we find the soldier's part
Is to clean up all the troubles that the politicians start.

If we cannot do him honour while he's here to hear the praise,
Then at least let's give him homage at the ending of his days.
Perhaps just a simple headline in a paper that would say,
Our Country is in mourning, for a soldier died today.
A. Lawrence Vaincourt
"Lest we forget / N'oublions jamais."
Poppy Quarter
On October 21, 2004 the Royal Canadian Mint, together with The Royal Canadian Legion, unveiled the world's first coloured circulation coin. The 25-cent coin features a red poppy, the symbol that pays homage to the 117,000 brave Canadians that have died while in the service of the nation. Two additional Poppy Coins have been issued since 2004.
The Canadian Government declared 2005 as
"The Year of the Veteran"

These posters are part of a set issued by the Department of Veteran's Affairs
The Year of the Canadian Veteran
The Royal Canadian Mint issued the Year of the Veteran 25-Cent coin on October 17, 2005. In 2005, Canadians are reaching out to thank our veterans and honour their decades of duty and sacrifice. These brave men and women are not only those who fought in World Wars I and II and the Korean War. Amongst them are the younger faces of Canadian Armed Forces personnel who have served in places like Afghanistan and the former Yugoslavia, fostering peace and freedom on behalf of Canada.
The design depicts the profiles of two veterans from different generations, joined by their love of country.
Year of the Veterans
A unique tribute to Canada's veterans
A granite memorial commemorating Canada's military veterans is located in Queen's Park, Toronto, ON. The Veterans Memorial, a 30-metre long wall, etched with scenes of Canada's military history, is the work of artist Allan Harding MacKay.
The 40 scenes etched into the granite are based on existing paintings, vintage photographs and World War I film. They picture the Fenian Raids of 1866 up to current missions, such as the one in Afghanistan.
The memorial is in a grassy setting with trees, a paved "gathering area," and a seating area. This installation is intended to be a place for contemplation as well as remembrance.
The unveiling ceremony was followed by one of the largest military parades in Toronto since the Second World War, and included thousands of men and women of the Canadian Forces, cadets, veterans, bands and mounted units.
60th Anniversary VE Day Nickel
The 2005 Victory in Europe Anniversary Nickel honours the 60th anniversary of the end of WWII. This special circulation coin is a representation of the 5-cent coin created in 1943 to promote the Canadian war effort.
Canadian War Museum
This 2005 domestic rate (50¢) stamp honours the Canadian War Museum's new home, built in Ottawa as a memorial to the men and women who served in Canada's armed forces. Displayed in Morse code is the phrase "Lest we forget / N'oublions jamais." The central image of the stamp is the Memorial Cross GRV, best known as the Silver Cross, awarded to wives and mothers of fallen servicemen.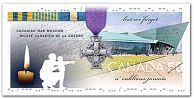 Visit the Juno Beach website


For the complete story of the Canadians on D-Day June 6th, 1944
See the special Veteran's License Plates that have been issued by various Provinces and Territories
Click Here

This page is part of Knight's Canadian Info Collection
Please visit our other pages
Site © by K.C.I.C. - A. Knight (Webmaster)