PRESENTS
Canada's Coins
Page - 2
---
Go to Page | 1 | 2 | 3 | 4 | 5 | 6 | 7 | 8 | 9 | 10 | of Canadian Coins
Please note: I am NOT a coin dealer nor a collector, so I cannot answers questions about your coins.
NOTE: Coin images are for Educational purposes only and may be larger than the actual coins

A new bust of Queen Elizabeth II appears on the face-side of all Millenium coins.
All the Canadian Coins are presently in circulation, but some that should still be in circulation are very difficult to find.
Face
Queen Elizabeth II

Canada's Special Millenium Coins
In recent years there have been many Commerative coins and coin sets issued. To celebrate the new Millennium, the Royal Canadian Mint issued sets of both 1999 and 2000 .25 cent coins with special designs.
In both 1999 and 2000 a set of unique .25 cent Millennium Quarters were and are being issued, one per month of the date year. These coin designs were selected from thousands of entries submitted by Canadians from coast to coast.
Millennium 1999 Coins (Showing Month Issued)
Millennium .25 cents (Quarters) January to June 1999
Millennium .25 cents (Quarters) July to December 1999

Millennium 2000 Quarters (Hopes and Aspirations)
Millennium .25 cents (Quarters)
Top row - January to June 2000
Bottom row - July to December 2000
The Millenium $2 coin was issued on July 01/00 (Canada Day). The reverse shows a polar bear with her cubs and has the word 'KNOWLEDGE' (in English) and 'LE SAVOIR' (in French). One unusual feature is the coin value '2 DOLLARS' appears on the head or face of the coin, under the Queen's profile. That is a marked departure from the usual, as the value is normally on the reverse of Canadian coins.
2000 Millennium 2 Dollar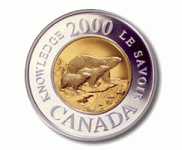 Bear with Cubs
---
Go to Page | 1 | 2 | 3 | 4 | 5 | 6 | 7 | 8 | 9 | 10 | of Canadian Coins

This page is part of Knight's Canadian Info Collection
Please visit our other pages
Site © by K.C.I.C. - A. Knight (Webmaster)